A Sea Change in Seafood
XpertSea Co-founder and CEO Valerie Robitaille is transforming aquaculture systems with technology, and making it a family affair.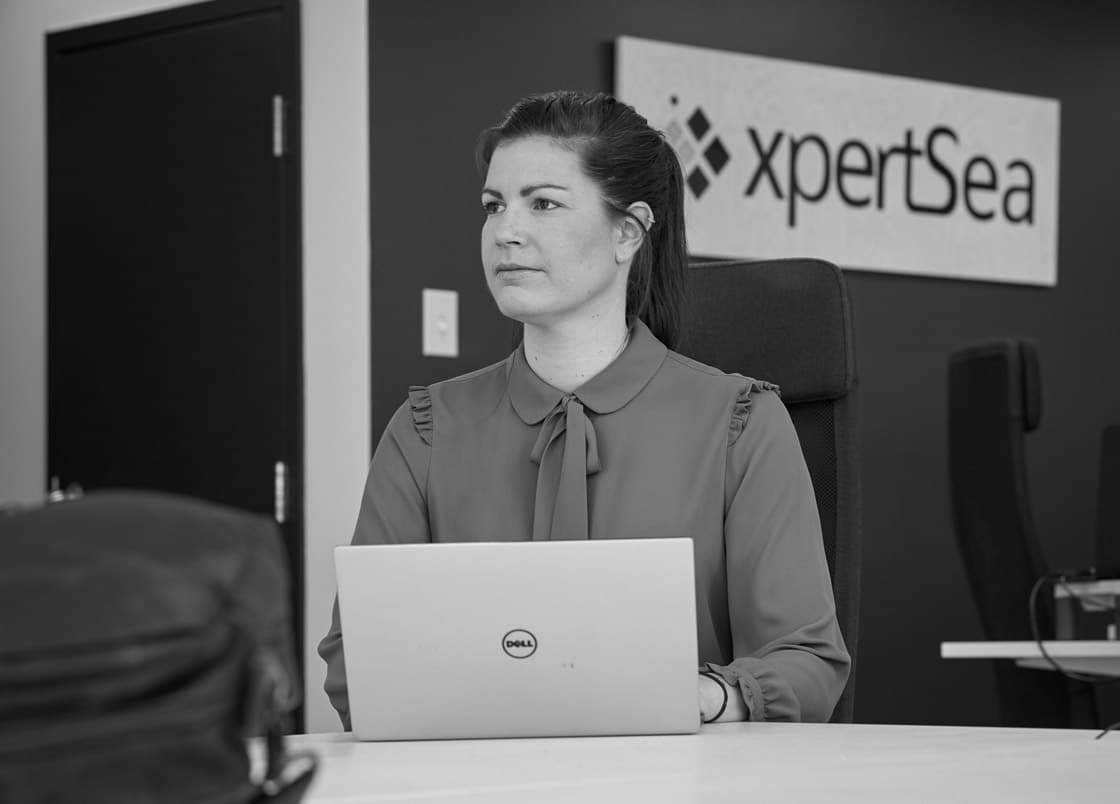 Valerie Robitaille has been building businesses with family since she was ten, from hawking homemade insect repellent to lemonade-standing on the corner.
"I'd even write magazines about marine animals and have my brother go door-to-door selling them. It feels like something that's always been with me."
"It", as I would learn from our conversation, was a combination of entrepreneurship and grit. Both are in her genes. In 1961, Valerie's grandfather started his own engineering firm, BPR (the 'R' standing for Robitaille), which went on to become one of the biggest in Quebec with over 1,000 employees. He was an extraordinary influence in her life, and also her first investor.
"My mother was a big influence as well," she explained. As a 32-year-old bank cashier, she went back to school for a high school diploma and to pursue a degree in engineering. "It was inspiring for me. After school she'd clean the house, cook dinner, and I'd see her go in her room and study all night. Lots of determination. It was not an easy situation for her going through all of this."
It wasn't all, or always, an easy relationship. Valerie was often the last kid remaining to be picked up from school activities, angering and frustrating her. "I'd think to myself 'Why can't you be on time?!' But today, I have it all in perspective."
Born and raised in Quebec City, Valerie would spend her winters in Florida with her grandparents. At only six years old, her parents would send her to the airport by herself. The destination was the key.
"Their condo was right on the beach, and my grandmother was passionate about the ocean. Good weather or bad, she'd put my jacket on and we'd take long walks together. That's what got me connected to nature, and specifically to the marine world."
With competitive sports also running in her veins (her father played Division I hockey at RPI), Valerie found the perfect marriage of marine biology and athletics at Maine Marine Academy. While her basketball career was prematurely sidelined due to an ACL injury, her academic work took off: after graduating from college in Maine, Valerie returned to Quebec for a masters in Geoengineering. The academic track, however, had its limits.
"When I went to grad school, I felt like it was taking too long to have an impact. I was always drawn to something more concrete."
In graduate school she began to recognize the ability for technology to solve challenges in the marine environment, initially using LiDAR systems to characterize animals. When developing their first prototype, Valerie and her co-founder Cody Andrews went to potential contractors who quoted them $400K to build it out.
They decided to build it themselves for $4K instead.
The work was highlighted in a small Maine newspaper, and after reading about the technology's application, an aquaculture outfit reached out to see if they could use it.
"We actually used a metal trash can as our first commercial-ready prototype to show that it was working and useful. We still have the trash can!"
What was intended as a proof of concept became their first commercial product, sourcing components like 300 paint buckets from Home Depot and electronic boards from local electronics shops. "We were operating first at my mom's house, then Cody's parents' house, and then we finally got a small office in an industrial park in Quebec in 2014."
After receiving grants from the Canadian and Quebecois governments (and a small loan from her grandfather), they raised their seed from Real Ventures.
The Problem (and Solution) in Aquaculture
Rewinding a bit, I asked Valerie to explain more about what it is XpertSea does and why they do it.
For starters, wild fish stocks are in rapid decline as demand is skyrocketing. This means we are increasingly relying on farmed fish to fill our plates: today, half of all fish consumed by people is cultivated aquaculturally (up from 26% just 25 years ago). Aquaculture businesses around the world, though, haven't yet been given the technology tools keep up with this demand.
Enter Valerie and her team.
"XpertSea's technology allows producers to count, size, and image aquatic production. All of that information goes into our cloud-based platform. We layer on additional intelligence to help producers optimize their feed and the growth of their organisms to make sure that they get the best results."
XpertSea's vision is to be the most adopted digital platform in all segments of aquaculture — shrimp, salmonite, marine, freshwater, shellfish — you name it. They are focused on improving the process in the shrimp industry first, which makes sense given its sheer size. While it's hard to quantify, shrimp remains the most popular seafood in the United States and is estimated by some to be a $40bn market globally (reaching $68bn in the next ten years).
"We're doing a good job improving data collection, but we need to bring more value to these data and information. Many of the customers don't have the ability to make use of the data, so we have to make it more actionable on their behalf. Long term we want to do this for all segments of aquaculture."
It's clear that for Valerie, this is as much about sustainable solutions to bigger food production and labor problems as well. She believes deeply that this is one of the most sustainable food production options available ("The fish don't consume much energy, so it can be efficient to grow them…"), all while creating better jobs.
"I remember workshops in Malaysia, and elsewhere, where they're initially scared of the technology. They used to spend hours counting the fish by hand, so when they start using the tech it's really empowering — it gives them new skills while doing fewer lower level tasks. They're creating new skills through technology, and that's great to see."
The Culture of Their Aquaculture
Valerie has been publicly vocal about the importance of culture in company building, and continued it in our conversation. "Culture is [formed] based on the type of people you bring in. When we started, it was family, and we had similar values. We kept hiring people that shared these values."
"Everyone feels important. Everyone feels that they're a part of it. We respect each other. We communicate a lot. When things are bothering us, we talk about it. Everyone takes it upon themselves to maintain the culture."
When asked for specifics of how it comes to life in their daily operation, she first mentioned XpertPassion, a lunchtime talk series from employees about their interests outside the company. Among the XpertPassions of her team: professional poker player, extreme runner, and belly dancer ("She did a demonstration, and at first I wasn't sure, but it was really cool!").
The company also operates with a high degree of transparency, especially with missteps in the past and how to learn from them.
In one of their first major demonstrations years ago in Vietnam, the customers in the room estimated the number of shrimp in the bucket at 2,000 — but the XpertSea device counted 7,000, which turned out to be too high. "My heart sank, and I realized 'Wow, this is real.' It changed our work ethic." Needless to say, the accuracy and efficacy of XpertSea's platform has improved dramatically since that day in Vietnam.
"We took a picture of that moment and hung it in our first office to remind us that we always have to be more sharp in the future."